SecureAction ® Secure Notes Organizer is an award-winning easy-to-use tool for Windows 95, Windows 98, Windows NT and Windows 2000 with Outlook-like interface which allows you to organize your notes and business data in hierarchical structure.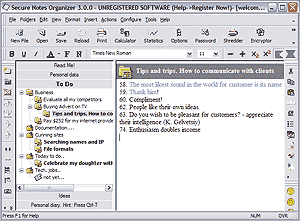 Secure Notes Organizer is a true 32-bit Windows application, written entirely in C++. It does not use any database engines, which makes it very fast. The program comes with its own compression engine, minimizing the use of your hard-drive space.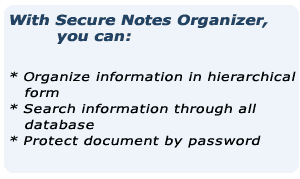 | | |
| --- | --- |
| | Is your desktop littered with different memos , making it impossible to find the necessary one, though you need it right now ? |
| | Would you like to remember all your friends' and partners' phone numbers, but they are so numerous that it seems impossible to find the one you want to dial? |
| | Would you like to keep a daily journal (maybe, even memoirs...) but you are scared that someone accesses your notes without asking for your permission? |
Then, Secure Notes Organizer is just the RIGHT program for you! You can solve these and other issues with a single download.
All information is stored in the hierarchical tree form, and the instant search saves your valuable time!
The program is capable of arranging all your notes by date, guaranteeing you'll never lose of forget anything again!
The program has automatic URL recognition inside the document, password protection , multilingual fully customizable interface, data exporting options and much more!
Secure Notes Organizer will keep safely and securely all your friends' and partners' phones and addresses; as for bank accounts' and credit cards' numbers, they will be stored even more securely than in the best storage vault (strong military grade document encryption is used !)
SNO is a trial software - so, if you decide to keep it, you have to register and pay the registration fee (as low as $29.95). Registered users will receive all future versions and upgrades free, as well as virtually unlimited technical support.
Important! Unregistered version can be used during 30 days after installation and has some limitations. You can order the fully licensed version of SNO over the Internet from RegNow or RegSoft with any major credit card. The ordering page is on a secure server, ensuring that your confidential information remains confidential. As soon as we'll be notified that your order has been processed (usually in one business day), we will provide you with the serial number which will register your copy of SNO. If you would not like to use you credit card in the Internet, you can order SNO by fax of phone; cheques, money orders and purchase orders are also accepted. The order form is included into the latest downloadable version of SNO; you can also get it here. Please don't send the cash to our mailing address! If you want to make a payment by wire (to our bank account, please contact our order department (orders@regnow.com) and mention SNO product ID (2528-1). Just note that the invoice will include extra $10 (bank fees).
After purchasing a license you'll be able:
Use program during unlimited time

Use "Global Find" feature

Use ability to insert and click URLs in a document

Receive free upgrades to newer versions

Receive notification via email about new versions
Secure Notes Organizer won several awards from well known places in the Internet
BlueChillies.com
5 Stars Award

BrotherSoft.com
5 Stars Award

Download2You.com
5 Stars Award

FileHungry.com
5 Stars Award

GlobalShareware.com
5 Stars Award

PaulsPicks.com
5 Stars Award

PopularShareware.com
5 Stars Award

ShareUp.com
5 Stars Award

SoftAward.com
5 Stars Award

SoftPile.Com
The most popular software in category!

SoftwareSeeker.com
Editor's Pick Award!

TopShareware.com
5 Stars Award and Editor's Choice!
Other awards: