Convert Your Photos To A DVD / VCD Slideshow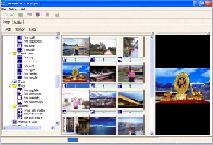 IphotoDVD is a powerful but easy to use utility that allows you to archive digital photos into DVD/SVCD/VCD compatible MPEG files with hundreds of transition effects. The transformation includes photo to dvd, photo to vcd, photo to mpeg, jpg to mpg and jpg to mpeg. You can create photo video, photo show on DVD/SVCD/VCD easily. These files can also be viewed on computer. IphotoDVD now is audio enabled.
DOWNLOAD TRIAL COPY | ORDER NOW
With IphotoDVD, you will be able to:
Archive your digital photos on a long-lasting CD that's playable on standard DVD/VCD players. You can save your original photos into the CD too.
Create impressive DVD/VCD/SVCD compatible video Mpeg files with transition effects & music from your photos.
Watch your digital photos on big TV screen with family & friends. All you need is a DVD/SVCD/VCD player.
Key Features
DVD/SVCD/VCD are well supported.
Professional user interface and very easy to use.
Powerful photo editor integrated makes it easy to edit your photos.
Choose from hundreds of transition effects for your slideshow.
Choose background music (MP3) for your album.
And multiple music files for a single slide show is supported.
Easily control for individual photos.
Select different display times and transition settings for individual photos.
You can now add text, photo date, file name on your photo. And easily to change the font of the text.
Easily to organize your photos into multiple albums.
Preview movie before making.
Auto/manual synchronize audio & video
Sorting of photos by NAME, SIZE, TYPE, DATE