Advanced Encryption Package 2004
Here you will find your own file encryptor + file shredder + program making self-unpacking encrypted executable files + your personal ZIP archiver (better than WinZip!).
Introduction
While it is well known that letters can be intercepted and phone lines can be tapped, it is not so well known that even e-mails can be easily read. In fact it is commonly believed that the login password provides privacy and security.
This is not actually so!

Any employee of the Internet Service Provider (ISP) that you you use, can tap into your e-mail at your end or that of the recipient with the use of fairly basic equipment. Tapping can also be done by anyone who links up to the dozens of Internet routers through which your message passes.
The mail can even be accessed by someone at the phone company's office or a hacker who taps in through them.
There are also a number of more sophisticated methods and a wide range of equipment by which all electronic communication can be intercepted. These are used primarily by government agencies, but can also be employed by business rivals and competitors.
Such agencies can also use specially designed software that can automatically search all e-mails and faxes passing through a particular phone network for keywords, or analyze phone calls digitally. So even if you are using unlisted numbers, or public call offices and cyber cafés, your communication can be traced and intercepted by picking up commonly used terms or phrases.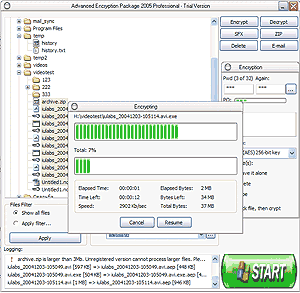 Advanced Encryption Package 2004. Screenshot. Click it to see big image

Hence, encryption, using SecureAction's encryption software, is the only guaranteed way to protect your privacy.

What is encryption?
Encrypting data means getting it transformed into a string of characters undecipherable by others.

What actually happens is that by using a secret-key i.e. the equivalent of a code (see glossary), the cryptography system transforms your data into gibberish. If the scrambling of the data is done properly, the original file can only be unscrambled and read by someone who knows the secret key i.e. the code used to encrypt the file.
Encrypting a file ensures that even if someone gets access to your computers he would not be able to read the data stored there. Encrypted files can safely be sent by e-mail or placed on a network with the assurance that the data can be read only by those who were meant to have it.

Basic encryption systems have been used to protect secrets for many centuries. But today's encryption methods are far more sophisticated and reliable than ever before because the encryption code itself is a very complex computational transformation that is only feasible with desktop machines in the early 1990s
What can I do to be safe?
Each time you work with sensitive data, or wish to communicate with someone else confidentially, you must use Advanced Encryption Package 2004 to protect your files. (The Help Menu provides a step-by-step guide of how this is to be done).

Ensure that all you stored information is also encrypted so that it is safe from the eyes of snoopers, competitors or uninvited investigators.

And when getting rid of old files or data, don't just delete them, use the built in Shred function in the program to be absolutely safe.

What is Advanced Encryption Package 2004?
Advanced Encryption Package 2004 is professional files encryption tool and also .zip archiver (2 in 1). It should be used to encrypt your sensitive private files (with using password) from prying eyes. AEP2004 uses very strong military grade encryption to make sure that your private data remains confidential.
Why AEP2004?
Easy in use

Handy interface
Skins support!

Ability to encrypt text to send it safely via your e-mail or chat program like Outlook Express, Eudora, The Bat, ICQ, AOL Messenger, Microsoft Messenger and etc.

Ability to encrypt files

Ability to send encrypted files via Internet
Statistically impregnable against brute force attacks (at least 1032 billions years for the fastest computer in existence to break the key - the age of the universe is 1018 billions years). For encryption and protection your important documents, AEP2004 uses 4 strong encryption algorithms: Blowfish, Rijndael, CAST, DESX.

Full .ZIP support AEP2004 can browse for existing .zip archives, extract its contents and even create new .zip archives!

Built in file shredder - i.e. wiping the contents of the original pre-encrypted file beyond recovery to make sure that not even a trace remains after shredding. (matching and exceeding the specifications of the U.S. Department of Defense) to stop hardware recovery tools.
Built in compression of files to reduce size in transmission

No "back door" in the software - No access possible under any circumstances. If you do not remember the password you cannot access the encrypted contents. There is no special procedure, secret code, or hidden entry method to fall back on.

AEP2004 encrypts every kind of file on every kind of medium, whether floppy disk, removable hard drive, zip drive, tape drive or other

Ability to make self-decrypting files for sending to people who do not have AEP2004. The program can be used to create self-extracting files. The recipient can unlock the data by just starting the self-extracting file within Windows and entering the combination.
The only requirement for self-extracting files is that the recipients must be running some form of Microsoft Windows. All they need is a key to access the contents i.e. a totally secure system is possible without any modification of existing mail systems using any mail system that supports file attachments.

AEP2004 integrates itself into Windows (TM) Explorer, thus, you can encrypt/decrypt/shred files directly from Windows Explorer window using Explorer's context menu.
AEP2004 is "try-before-you-buy" software. Registration gives you the right to use AEP2004 after the 30-day trial period, receive technical support and use features available only for registered users. If you have a question about the registration procedure details, write a message to sales@secureaction.com


- No nags at startup and in messages
- Ability to use passwords with length more than 3 symbols
- Ability to encrypt/shred files larger than 200Kb
- Lifetime technical support including support via e-mail.
- FREE upgrade to new versions.
- Product notification by e-mail.
- Beta testing for newest version.

Our ordering page is on a secure server, ensuring that your confidential information remains confidential. As soon as we'll be notified that your order has been processed (usually in one business day), we will provide you with the serial number which will register your copy of AEP2004. If you would not like to use you credit card in the Internet, you can order AEP2004 by fax of phone; cheques, money orders and purchase orders are also accepted. The order form is included into the latest downloadable version of AEP2004. Please don't send the cash to our mailing address! If you want to make a payment by wire (to our bank account, please contact our order department (orders@regnow.com) and mention product ID (2528-2). Just note that the invoice will include extra $10 (bank fees).

Order the fully licensed version of Advanced Encryption Package 2004 ($30)